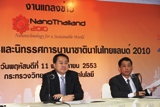 NanoThailand 2010 got off to a very good start this morning (Nov 11) with a press conference chaired by H. E. Dr. Virachai Virameteekul, Minister of Science and Technology. Also participating was Prof. Dr. Sirirurg Songsivilai, President of Nanotechnology Association of Thailand, Prof. Dr. Jumras Limtrakul (Kasetsart University), and Prof. Dr. Nikorn Mungkorntong (Chiang Mai University). 
"NanoThailand 2010 conference is the product of collaboration between the private sector, academic, and research institutions" said Dr. Virachai. "It is necessary for the public to be aware of nanotechnology and its capabilities in economic and social development".
 "Nanotechnology Association of Thailand was launched in October 2010 and two activities which we will focus will be the NanoThailand 2010 and the establishment of NanoQ" said Prof. Dr. Sirirurg.
NanoThailand 2010 is a premier nanotechnology conference which will be held from November 18-20 at Thailand Science Park.